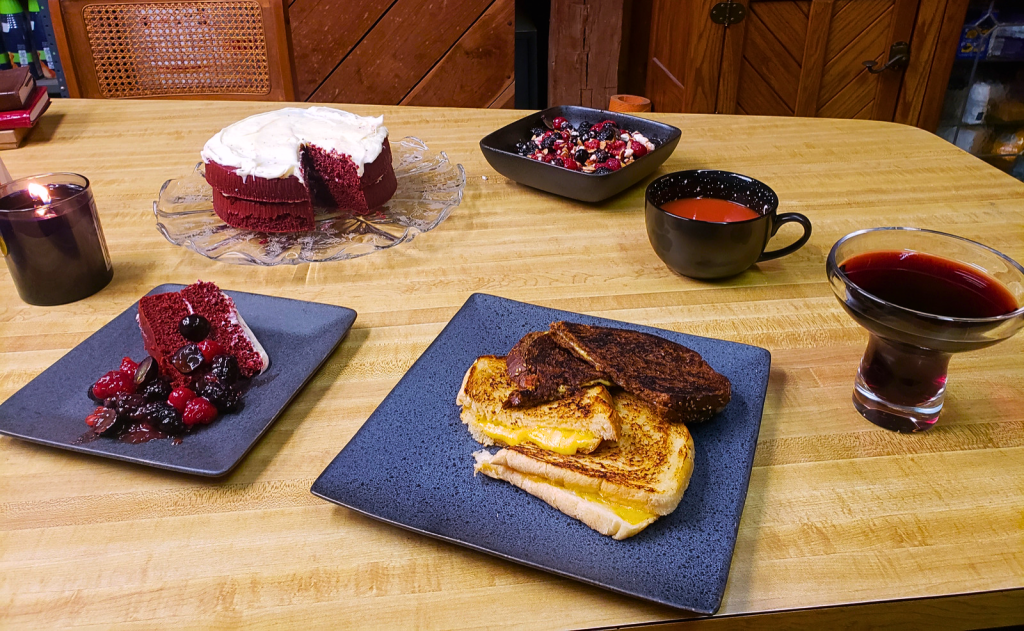 Good evening to you, dear party goers! What a treats are in store for you tonight.
As our first holiday in the Fantasy Romance Holidays of 2023, we are delighted to welcome Carissa Broadbent and her heart-stopping romantic fantasy tale of vampires, mortal combat, and enemies to lovers. (Be sure to check out the giveaway too!)
This delicious feast is a fun spread for your late night indulgence as you read The Serpent and the Wings of the Night or hide from vampires.
Now technically, Carissa included a quasi holiday that we could celebrate: Kejari. But, we humans need something we can celebrate a little more often than once a century. Of course, we also tend to prefer holidays where we don't have to run for our lives and figure out whether we're strong enough to actually stake a vampire through the heart (a feat which takes a fair bit of strength as Oraya demonstrates early on).
So our Night of Blood is a night in which we celebrate being alive (do you like being alive? I like being alive!).
And part of that celebration is delicious food that we can eat at midnight while hiding from the vampires. (Hopefully some of you know how to fight or have connections with some very charming sexy ones who don't want to kill us.)
So here is our menu. This is not a cooking blog at this time, so I'm going to be offering alternatives to make this simpler as well. Remember, the point is for it to be fun and delicious, so simplify as much as you need to. Adapt and have fun!
Midnight Wine (What Kind of Vampire Story Would It Be Without Wine?)
Vampire Protection Sandwich (Grilled Cheese with Roasted Garlic)
Blood Bisque Garnished with Green Tears Of Your Enemy (Also Known As Basil)
Diabolical Delights Salad (Yes, You Do Need Your Fruits and Vegetables, Though We're Going to Be Really Loose with the Definition of Vegetables For This Salad)
Blood Cake (That Sounds Violent But It Tastes Like Red Velvet)
Midnight Wine
Simple Version With Alcohol:
Get a decent bottle of red wine or a cheap one and use an aerator when pouring. (James and I have started using this one from Amazon, and it has made such a difference.) Open said bottle at or near midnight. Cheers!
Okay, okay, I know that one is a bit of a cop out. The others are better. I promise. But that aerator is good to have on hand whether you're drinking or cooking with the wine.
Simple Version Without Alcohol:
Get some tart cherry juice (do not just get the sweet, or you may get a sugar headache). Add one teaspoon of grenadine to one cup of tart cherry juice, then taste and add a little more until it is of suitable sweetness for you. Or you can do like me and just drink that tart cherry juice straight or add a dash of lime juice for extra zest.
Now let's go on to where it's a little more complicated. And again, we'll have an alcoholic and non-alcoholic version.
A Little More Complicated
The base for this recipe is actually a cherry sauce. It will give you a very thick beverage that rather congeals (in case that's what you're looking for), and it is quite delicious.
2 cups of fresh cherries stemmed, pitted, and halved (either sweet red cherries or half and half of sweet red cherries and sour cherries)
1 cup sugar
2 cups of red wine (I used cabernet sauvignon) OR tart red cherry juice
¼ tsp almond extract
2 tbsp corn starch
1 tbsp red wine vinegar
Extra red wine OR tart red cherry juice
Optional lime juice
Wash, stem, pit, and halve the cherries. Place in a saucepan with sugar.
Mix cornstarch in ½ cup of the wine or juice and set aside.
Add wine and vinegar into the saucepan. Bring to a boil over medium heat. Then reduce to low and stir frequently for 20 minutes. Cherries should be soft all the way through.
Add cornstarch and reduce heat to low. Stir thoroughly for two minutes and allow it to thicken.
Strain to remove cherries. (Bonus tip: you can either put these cherries on the cake or eat them separate.
Stir in almond extract.
Taste.
If flavor and thickness are good, then remove from heat and serve. If too thick, stir in more wine or juice over low heat and bring to temp. If too thin, add a tsp of cornstarch slurry and then stir in. If too bitter, add a little more sugar.
If you want it to have a little more zip, add in a touch of lime juice.
Serve shortly after completing. This remains delicious but is challenging to drink when it gets cooler.
Vampire Protection Sandwich (Grilled Cheese with Roasted Garlic)
So this is just your classic grilled cheese sandwich with a little garlicy twist.
Now I'm going to assume you know how to make grilled cheese. The only thing that's a little different with this is that I spread on a liberal helping of roasted garlic between the bread and the cheese before grilling. (Word to the wise: you're probably only going to like this if you actually like garlic. So if you don't, just skip it and make a regular grilled cheese.)
If you don't want to go to the trouble of roasting garlic or that's just too much, you can also substitute spreading roast garlic between the bread and cheese for buttering the bread with garlic butter. Or just sprinkling with garlic salt though that is much lower in terms of garlic goodness ratios.
Personally, I think it's hard to beat the intense luxurious flavor of roasted garlic. I use an air fryer, and this is a recipe that is pretty simple and includes both written and video instructions.
You can either spread the roasted garlic directly on the inside of the bread or mix it up with butter and spread it on the outside.
Other than that, prepare your grilled cheese like you usually would.
For this particular delight, I prepared pumpernickel with gouda and then sour dough with colby jack.
Remember to let the cheese cool enough that you don't scald your mouth. Unless you too like to live dangerously. Remember that until it cools, it may also be used as a weapon against vicious vampires, though the cost is that you will not be able to consume it yourself. So it may be better to slip away to a greenhouse to eat in peace and read while insisting that all vampires and other denizens of the night that may wish to drain you stay outside (I'm sure they wouldn't want to be rude).
Blood Bisque Garnished with Green Tears Of Your Enemy (Also Known As Basil)
Now, if you'd like a delicious option for homemade hearty tomato vegetable soup, here we go.
1 tbsp cooking oil (I prefer avocado)
A large onion diced (yellow or white are both fine, Vidalia if you're feeling fancy)
8 cloves of garlic minced (roasted if you want a subtler flavor)
1 cup of red bell peppers
¼ tsp thyme
1 15 oz can roasted tomatoes (plain tomatoes can work fine as well but you will lack a little depth of flavor)
6 cups chicken broth
1 4 oz can tomato paste
3 tbsp beet juice
1 carrot sliced thin
1 8 oz can of black beans rinsed (optional if you want darker shade of red plus more protein)
1 bay leaf
½ tsp black pepper
Dash of salt
Fresh basil
2 tbsp cornstarch to thicken, if you want it thickened (be sure to dissolve in a half cup of water or chicken broth before adding to the soup)
In a large pot, saute onions, carrots, garlic, and peppers until soft and onions are translucent.
Add in chicken broth, tomato paste, tomatoes, beet juice, and all the rest of the herbs and spices except the basil. Add black beans in as well if you intend to use them. Stir.
Simmer for approximately one hour.
Fish out that bay leaf. Then take an immersion blender in and puree the soup (unless you want it to look like chunky blood soup, in which case, you do you, honey).
If you want it to be redder, add another dash of beet juice. But do taste in between. (First time my roommates and I tried this, we went way overboard. Also do not use pickled beet juice. I know it's cheap, but there's a reason for that and it does not play nice with the other flavors.)
If it is still too thin, then mix up the cornstarch in some water and stir in over low heat. It will start to thicken.
Serve in bowls or goblets if you're feeling extra fancy. (I put mine in a black star mug because I lost my black bowl somewhere in the move.)
Slice the fresh basil thin and garnish the soup.
Try to manage a hearty vampire laugh when serving or some other dramatic effect.
Diabolical Delights Salad (Yes, You Do Need Your Fruits and Vegetables, Though We're Going to Be Really Loose with the Definition of Vegetables For This Salad)
Yes, Carissa had no idea when she agreed to this recipe that I already intended to make this fruit salad. But thankfully, she was not perturbed with the suggestion, or I might have been a little heartbroken.
But tragedy did strike: you can't find fresh pomegranate in the middle of winter where I live.
Nope.
In fact, really you're doing good to be able to find broccoli and cabbage. But neither of those seemed like good substitutes.
That said, this is a very flexible recipe.
For the Salad

1 cup blackberries
1 cup raspberries
1 cup pomegranates (if you can find them!)
1 cup black raspberries
½ cup black seedless grapes
½ cup feta cheese
¼ cup sliced honey roasted almonds
1 tbsp roasted sunflower seeds

For the Sauce

¼ cup seedless raspberry jam
1 tbsp honey
1 tsp of lime juice
2 tbsp water
Wash the berries and grapes. Cut grapes in half.
Mix fruit together gently and set aside.
For the sauce, mix the jam, honey, water, and lime juice in a saucepan over low heat. Whisk together until heated through and smooth.
Pour sauce gently over fruit and mix. (Set aside a few tablespoons of fruit with sauce to serve with cake if desired.)
Add feta cheese, almonds, and sunflower seeds.
Toss gently.
Blood Cake (That Sounds Violent But It Tastes Like Red Velvet)
Divas Can Cook is probably my favorite when I want to make red velvet from scratch. But there are a lot of incredible options out there. (Which one is my husband's favorite you ask? The one that's currently on his plate.)
But let's say you have a busy life and while you want to make a cake, you aren't feeling like you want to go to all that trouble?
Well, just a happy little reminder, you can also use a box mix. To make it extra decadent, I use an extra egg, substitute butter for the oil, and milk for the water. I also add three tablespoons of sour cream, a half teaspoon of vanilla, and a dash of coffee (I got that coffee addition from the Divas Can Cook too).
You will definitely want to freeze the cake before frosting though. I do that now just as a matter of habit.
Now the one thing you'll notice in my picture is how light I went on the frosting. That's a personal choice. You can certainly go all out. But because I reserved some of the berries to mix with the cake itself, I didn't want too much frosting.
(My husband informs me that there is no such thing as too much frosting.)
This frosting recipe from Divas Can Cook should have you covered regardless (and leftovers also go beautifully with fruit). If you decide to purchase frosting in a can, that will take about two containers worth to get full coverage.
For the fruit, I reserved some of the Diabolical Delights Salad before I added in the honey almonds, salted sunflower seeds, feta cheese but after I had tossed it in the raspberry lime honey sauce.