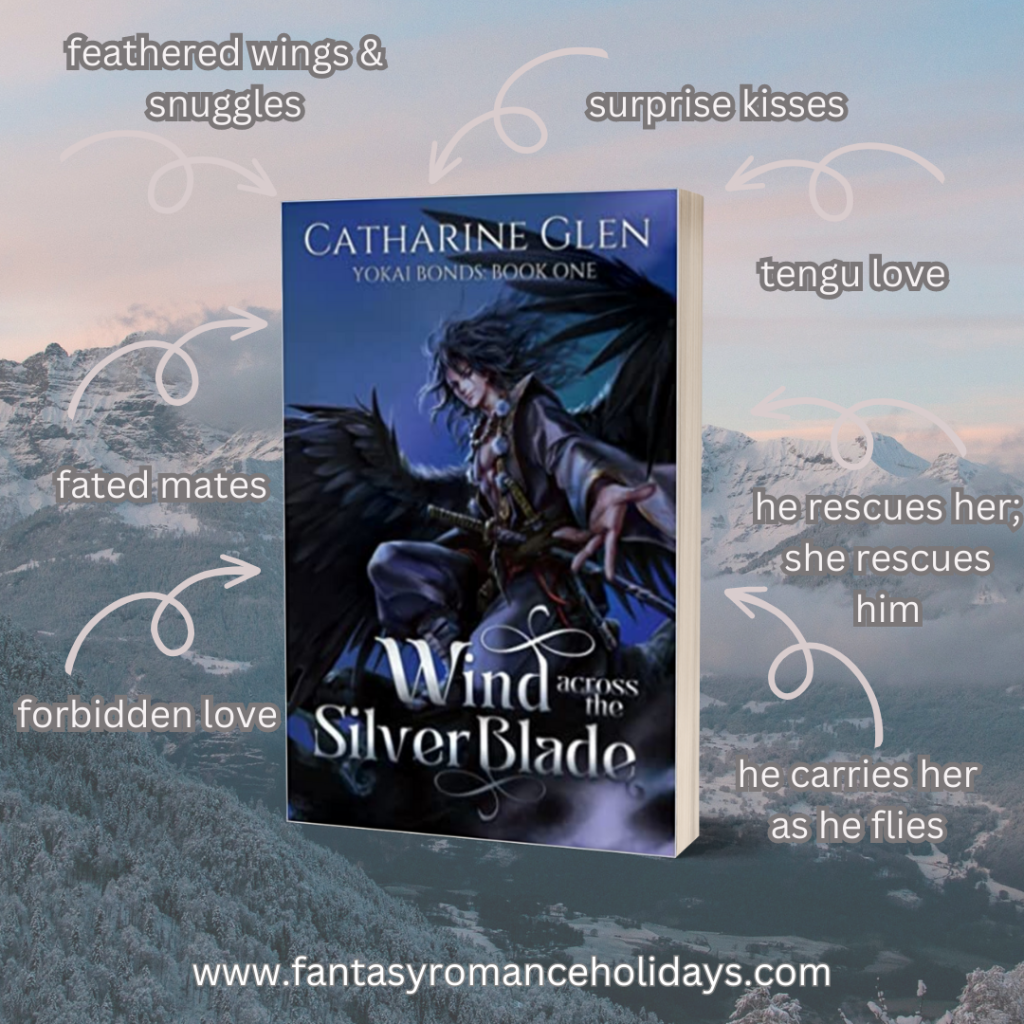 Soul mates with a soul bond, surprise kisses, flying through the air in a strong tengu's arms. If that appeals to you, then I have just the story for you.
This is my written review. But if you'd rather watch it on TikTok or Instagram, you can do that as well.
Catharine Glen's Wind Across the Silver Blade was one of my favorite reads of 2022, and I thoroughly enjoyed rereading it this year as well. It's the page-turning adventure of Yumi, the daughter of a noble family who has been awash in strange circumstances. Not the least of which was a fire in which she risked her own life to save her siblings and after which she was banished for her troubles and despite appearing to suffer no harm.
But her life continues to get more complicated when she discovers a wounded tengu named Touma. The two share a bond. A bond which at first she does not understand and which he doesn't seem to be too keen to discuss.
One of my favorite elements in this story is a trope that I am calling "surprise kisses." And surprise kisses is a trope in which one of the characters surprises another character with a kiss, but the kiss itself is still welcomed.
There are a few of these. One in particular is my favorite, and it involves a tree and happens during the night. If you've read it, tell me if you loved that scene as much as I did.
Yumi is a compelling heroine who is struggling to understand her place in the world in light of her circumstances and a past that would define her as weak and mild while Touma is a tengu who has long battled his place in the world and fights to understand what the future holds for him, especially in light of this soul bond.
The two have beautiful chemistry. He can be a bit brash and perhaps not always the most sensitive, but he makes up for it by being charming and having gorgeous soft wings. Can I just add that I love that detail?
The romance itself is sweet and passionate with some steam. There's a tenderness between these two that is mirrored throughout as they both save one another again and again and have to learn how to function together and near one another.
It's a complete read and a standalone though Catharine Glen has informed me that two of the characters in this story will be getting their own stories. Yokai as well. A certain rather mischievous kitsune and another more mysterious figure.
Also I have to add that the worldbuilding is beautiful in this. It is set in a fantasy-based Japan, and so it draws on a lot of the lore and the culture. Oftentimes, this can burden a story or slow it down. Here it's all woven through in a way that keeps the story moving and your mind engaged.
A wonderful spring read, and one I will likely read again in the future. What about you? Have you read Wind Across the Silver Blade yet? Are you going to soon?