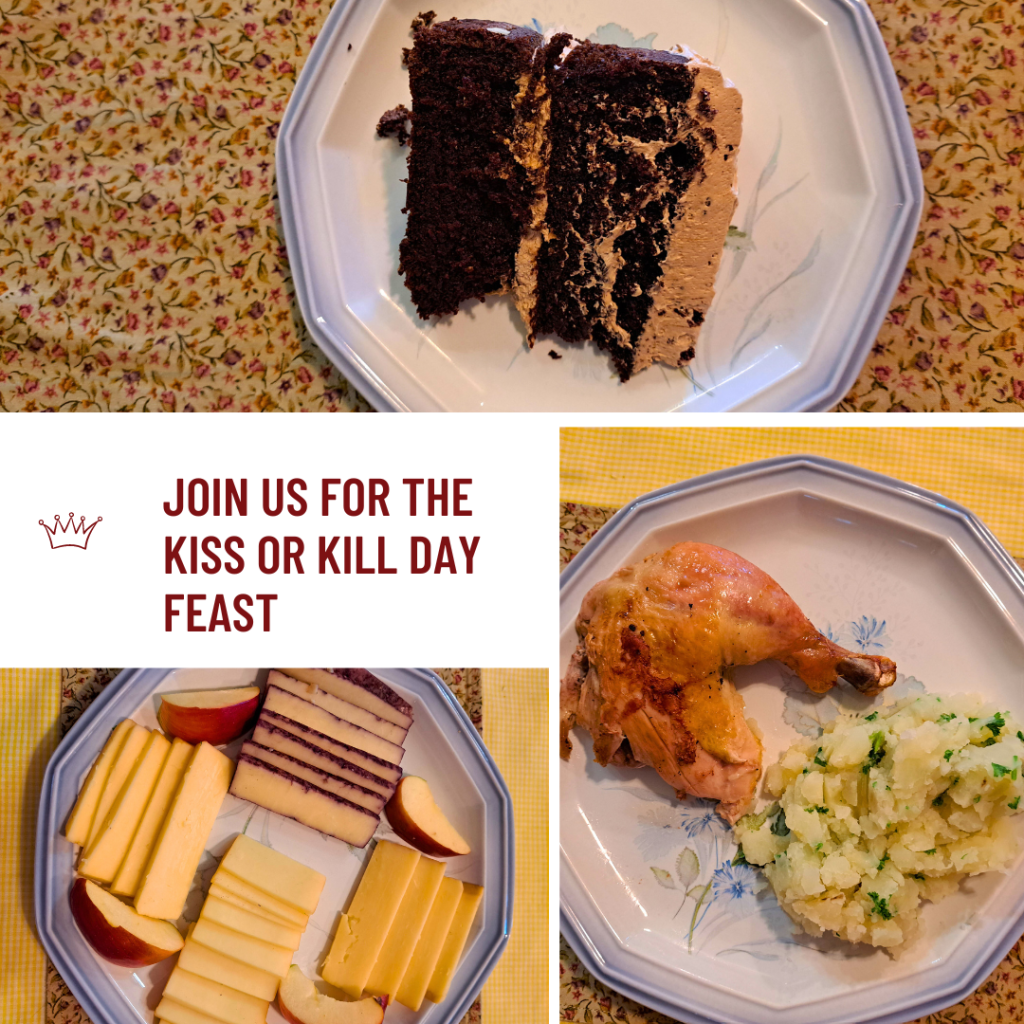 Oh what a beautiful day it is to celebrate Kiss or Kill Day, a holiday inspired by Clare Sager's Kiss of Iron.
This is a holiday about decadence, intrigue, layers, and surprises. We don't recommend that you go out robbing people on highways, but if you find host a dance with some simmering passion, that would be excellent.
As our fourth holiday in the 2023 Fantasy Romance Holiday Calendar, it is a great delight to welcome Clare Sager and her simmering concoction of passion and intrigue featuring a penniless noblewoman who will do anything to protect her home and an intriguingly arrogant and skilled fae lord.
This meal is in part based off dishes that are featured within the book and what I guessed the characters might enjoy.
Are you ready?
Then let's begin.
Just as an aside, there is a beautiful cheese plate featured in the above image. I don't imagine that you all need to know how to slice cheese and put it on a plate with apples (though you may want some after reading the little bit toward the end where Kat is also enjoying cheese and apples). But in case you wanted this particular one, I used honeycrisp apples and the cheeses I chose included purple harvest moon, brandy smoked cheddar, and hickory smoked gouda.
Foraged Spring Greens and Radishes with Vinegarette
2 bunches of washed spring greens + dandelion greens if you can get them without pesticides
5 radishes thinly sliced
5 green onions sliced
Vinegar of choice with oil of choice Ratio is 1 part vinegar to 3 parts oil
Salt
Pepper
Wash the greens. Mix in with radishes and green onions.
Mix up the vinegar and oil. I used apple cider and olive oil for this. It's very adaptable based on the number of people you're preparing dressing for. I recommend sprinkling the salt and pepper on afterward so that you can adjust more precisely.
Bastian's Bacon (Streaky Bacon) Wrapped Roast Chicken
One 6 lb roasting hen
Kosher salt
Pepper
One honeycrisp apple
One white onion ½ lb of bacon (streaky bacon! I have learned the term)
Preheat oven to 350 degrees.
Remove gizzards and neck from chicken. Rinse and pat dry.
Place chicken in roasting pan and sprinkle liberally with kosher salt and pepper.
Cut the apple and onion into eighths. Stuff into the chicken cavity. If you like, tie the legs together.
Layer strips of bacon over the chicken.
Bake for 1 ½ hours. The bacon will baste the chicken as it bakes.
Remove the strips of bacon. Turn the heat up to 425. Continue baking until chicken reaches internal temperature is 180. (Test in the breast.) (You can finish cooking off the bacon in a pan or drop it into the drippings if you want softer bacon.)
Allow to rest for at least 10 minutes before carving.
Perfectly Practical Parsley Buttered Potatoes
So this one is my family's recipe, and it's more of a ratio as well as an all-around favorite. You can adjust it based on how many you're cooking for. Super easy and so tasty. Also very good for people who are recovering and need gentler food (though maybe don't include the butter if someone does have an upset stomach).
If it weren't so difficult cook potatoes in one's bedroom, I imagine Bastian would have whipped up a batch for Kat later in the story. But cheese and apples are much simpler to manage.
Ratio: One large potato with ½ tablespoon of fresh parsley and 1 tablespoon of butter per person
Salt
Peel and cube the potatoes.
Bring salted water to a boil. Put potatoes in boiling water. Boil for 20 minutes or until tender.
Drain water off potatoes. Add butter.
Chop parsley to desired size and add to potatoes.
Add salt to taste.
Kat's Delightfully Delicious Real Coffee Cake (Definitely Have This and Eat It Too)
So I poked around, and I decided to go basic for this one as I have never done a cake like this before. No experimentation. Just following the recipe that you can find here. It was quick and simple and enjoyable.
Have you ever made a cake like this? I only did two layers for this one as in the recipe. But some apparently are as thick as three! Additionally, I would note that I did use butter rather than margarine, and I used two tablespoons of coffee rather than just one.
Before the end of the year if I have time, I may play around with this more and figure out how to do a good delicious creamy caramel frosting with crumbles.
Ferociously Fake Coffee Cake with Caramel Topping
The Cake
2 cups flour
½  tsp baking powder
½  tsp baking soda
1 tsp salt
½ tsp ground cinnamon
½ tsp nutmeg
½ cup unsalted butter softened
½ cup white sugar
½ cup brown sugar
2 large eggs
1 cup sour cream
1 tsp vanilla
The Topping
¼ cup salted butter
15 soft caramels or caramel ice cream topping
¾ cups all purpose flour
¾ cups brown sugar plus extra for sprinkling
1 tsp salt
½ cup coarsely chopped pecans
Preheat oven to 350 degrees.
Grease and flour your 9″ baking pan.
Whisk together the flour, baking powder, baking soda, salt, cinnamon, and nutmeg.
In a separate bowl, cream together softened butter, sugar, and brown sugar. Mix thoroughly.
Add in the eggs one at a time.
Mix in sour cream and vanilla until just incorporated.
Add flour and mix until just incorporated.
Prepare the topping. In a saucepan on low, heat up the butter for the topping along with the caramel sauce or the caramels. Stir until smooth and melted. Set aside.
Add flour, salt, and brown sugar to topping along with half of pecans. Mix with fork to make crumbles. It will get clumpy. You may need to use kitchen shears to cut into crumbles.
Pour topping onto the coffee cake mixture. Top with remaining pecans. Sprinkle with brown sugar.
Bake for 50 minutes. It is finished when a knife or toothpick comes out clean.
Cool for at least 10 minutes before serving.
Decadent Chocolate Cake with Coffee Frosting (Please Have Some and Eat It Too)
Usually I'm not too picky on brand names, but for this, you need to make sure you use a good brand of cocoa (I do love Hershey). Also real butter, not margarine. And I like the coconut oil for added smoothness and depth. Otherwise, I prefer canola.
It is not required to chill this one, but I absolutely love it chilled. Especially with a rich buttery frosting.
If you want to make this even richer, you can also top with powdered sugar or caramel pieces. It is fairly rich though, which is why I only frosted the top and middle. My husband, however, would happily coat it with all kinds of additional sugary goodness.
Typically when I make this, I make it with a chocolate frosting. But for this event and to get the coffee taste, I made a coffee buttercream.
Chocolate Cake
2 cups sugar
1 ¾ cups flour
¾ cups Hershey cocoa
1 ½ tsp baking powder
1 ½ tsp baking soda
1 tsp salt
3 eggs
1 cup cream or whole milk
½ cup coconut oil
2 tsp vanilla extract
1 cup strong coffee
Preheat oven to 350 degrees.
Grease and flour two 9″ cake tins.
Whisk together all dry ingredients.
Add in eggs, milk, oil, and vanilla. Beat for 2 minutes.
Add in coffee. Note: the batter is rather thin. That's all right. That's how it's supposed to be.
Divide the batter into the two cake tins.
Bake for 30 – 35 minutes. Knife or toothpick should come out clean.
Remove and cool completely before frosting (if your icing is stiffer, I actually recommend freezing it for a bit to keep it from tearing as this is a more delicate cake).
Coffee Buttercream Icing
½ cup softened butter
2 cups powdered sugar
1 ½ tsp vanilla
2 tablespoons whipping cream
2 tablespoons instant coffee
Pinch of salt
Cream butter and then gradually add in powdered sugar until light and fluffy (I take about 5 – 10 minutes on this)
Beat in vanilla
Mix cream with instant coffee. Add coffee mix into frosting.
Beat on high until smooth (I take a couple more minutes here as well; if you are using a mixer of some sort, make sure to thoroughly scrape the sides of the bowl.)
Frost middle and top of cake.
Fae Punch (Not The Kind That Will Make You Tell the Truth)
So this is not fairy wine. Nor is it some rather delightful beverage that might lower your inhibitions and make you tell the truth. But, if you add enough rum, it packs a punch.
All in all, it's very simple.
4 oz strong Earl Grey tea chilled (my husband preferred both the color and flavor at 2 oz Earl Grey)
4 oz orange juice (fresh squeezed if you're in the mood for fancy)
1 oz rum
Slice of lime.
Stir liquid ingredients together. Add a slice of lime.
Drink responsibly and avoid any situations in which you may be interrogated by handsome fae. It may help you respond humorously with ugly fae though.