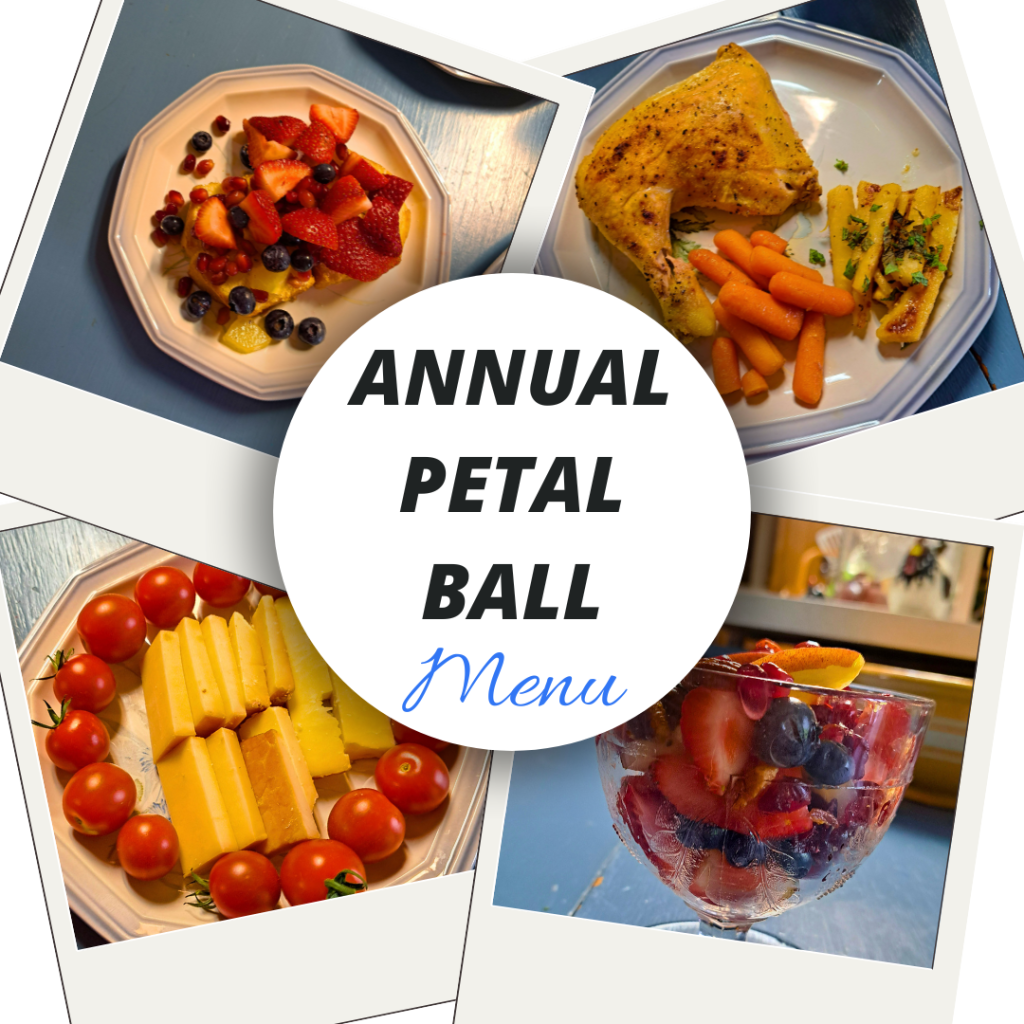 What better way to celebrate a ball than with a delicious menu full of tasty food?
Well, dancing, maybe. But we're going to cook up some tasty thematic dishes, based on the food served in Fly with the Arrow and Dance with the Sword.
Fae Fruit Salad (Is Calling It Magically Delicious Too Corny?)
Beyond the fruit choices, there are two ways you can make this salad. I made it both ways, and my preference is just the plain fruit. But my husband prefers the one with the sauce, which does make it much sweeter.
Ingredients for Fruit Salad
2 cups strawberries
2 cups blueberries
1 cup peaches
1 cup golden kiwi
1 cup pomegranates
2/3 cups dried cherries
1/3 cup dried cranberries
½ cup honey roasted pecans
¼ cup roasted sunflower seeds
Directions for Fruit Salad
Slice fruit to desired size (I quartered the strawberries, sliced the peaches, and diced the kiwi. Blueberries I left whole and pomegranates I just scooped out)
Place all fresh and dried fruit in bowl with approximately half of the pecans and sunflower seeds. Gently stir together.
Add the sauce (if desired)
Garnish with the remaining pecans and sunflower seeds
Ingredients for Sauce (Optional)
¼ cup lemon juice
¾ cup complementary fruit juice (orange, peach, pear, or pineapple) (I used pineapple for this one)
½ tsp lemon zest
1/3 cup packed brown sugar
Directions for Sauce (Optional)
Bring juices to a boil. Stir in brown sugar and lemon zest and stir until incorporated and thickened over medium heat. (Approximately 4 – 7 minutes)
Remove from heat and allow to cool.
Pour over fruit salad and chill fruit salad overnight or at least a few hours.
Roast Herbed Chicken with Sage, Lemon, and Pepper
Ingredients
4 chicken leg quarters
½ tsp lemon zest
1 tsp dried sage (1 tablespoon fresh sage, finely chopped)
½ tsp black pepper
2 tsp garlic salt
(If doing the parsnips, then six parsnips sliced into strips.)
Directions
Preheat oven to 425 degrees F. Line roasting pan with foil and parchment paper for easy cleanup if you like.
Mix together herbs and zest. Then sprinkle over both sides of chicken leg quarters. If you like stronger flavors, double and rub.
If you do want to prepare the parsnips with the roasted chicken, you'll want to slice the parsnips into strips first and place them in the bottom of the chicken roasting pan. Then you will place the raw seasoned chicken on top. The parsnips will cook in the chicken drippings and take on some of the herbal flavors.
Place chicken leg quarters over the parsnips and bake for 1 hour and 15 minutes. Check to see if chicken has cooked through (165 degrees F/juices should run clear).
Remove chicken from pan and then remove parsnips. Set parsnips aside to finish preparing while chicken rests before serving.
Parsnips with Fresh Mint (Because My Mint Sauce Is Not Nearly As Good as Fresh Mint)
But I do strongly encourage roasting the parsnips with the chicken as the seasoning on the chicken as well as the chicken fat season it beautifully and make them quite tender.
Ingredients
1 tsp lemon zest
2 tsp salt
½ tsp cracked black pepper
¼ tsp white pepper (omit if you don't want a little on the spicier side)
3 tbsp olive oil
3 tbsp mint finely chopped
6 peeled and sliced parsnips
Directions
If you already started the parsnips in the pan with the chicken in the above recipe, then you can skip to the finishing steps.
If you did not roast the parsnips in the pan with the chicken, then bring a pot of lightly salted water to a boil. Boil for 15 minutes.
In a separate skillet, heat the oil on medium high.
Mix the spices and herbs (only half of the mint) together.
Remove the parsnips from either the chicken or the boiling water. Toss parsnips in the spices and herbs.
Place parsnips in the skillet and sear until cooked through the rest of the way (approximately 10 – 12 minutes). Turn gently throughout cooking.
Sprinkle fresh mint on top before serving.
Honeyed Carrots (Better Than Honeyed Words)
Ingredients
1 lb baby carrots washed
¼ cup honey
3 garlic cloves minced
3 tbsp melted butter
1 tsp cinnamon
½ tsp ground ginger
½ tsp salt (may need a little more but add gradually)
¼ tsp black pepper
Directions
Preheat oven to 425 degrees.
In lightly salted water, boil carrots for 10 minutes and then remove.
Mix together honey, butter, and spices.
Toss carrots in the honey, butter, and spices.
Line cookie sheet with parchment paper or foil and place carrots on top.
Roast for 15 – 20 minutes, turning halfway. Remove once toasted and tender.
Faebulous Pound Cake with Fresh Fruit
Ingredients for Pound Cake
1 ½ cups cake flour (or regular flour double sifted)
1 tsp baking powder
½ tsp baking soda
½ tsp salt
1 ¼ cups sugar
1 cup butter melted
4 large eggs room temperature
2 tsp vanilla
Directions for Pound Cake
Preheat oven to 350 degrees. Coat a 9 x 5 inch loaf pan with butter and flour or nonstick cooking spray
Whisk together cake flour, baking powder, baking soda, and salt.
In separate bowl, whisk together sugar, melted butter, eggs, and vanilla.
Make a well in the first bowl of dry ingredients. Stir in wet ingredients slowly until fully combined and all lumps gone (don't use the mixer like I did the first time)
Pour batter into the loaf pan
Bake for 50 minutes or until inserted toothpick comes out clean
Cool cake completely. Remove from pan and slice into 1" slices.
Ingredients for Fruit Salad and Yogurt Spread
If you'd rather make a separate little fruit salad for this to make it like this picture, then you will need the following fruit. The rest is for the yogurt spread.
1/2 cup strawberries
1/2 cup blueberries
1/4 cup pomegranates
1/4 cup golden kiwis (optional)
1 1/2 cups vanilla Greek yogurt
1 tbsp honey
1 tbsp almond butter
Directions for Fruit Salad and Yogurt Spread
The fruit salad from the earlier part of the menu is a great option for this particular dessert if you're in the mood to make a big batch. I personally recommend setting some of the fruit aside before you add the sauce (if you add the sauce). Regardless, you'll want the yogurt spread. It might be my favorite addition to this recipe. The vanilla greek yogurt helps the fruit remain on the pound cake while also making it moister, and it just gives it a fun little twist.
Chop and prepare the fruit and set aside.
Thoroughly mix yogurt, honey, and almond butter.
Take slices of pound cake and cover generously with yogurt spread. Then top with fruit.
Delectable Fae Fruit Tea
Ingredients for Delectable Fae Fruit Tea
8 cups chilled earl grey tea or a cup (depending on how much you want to make)
1 cup sliced strawberries (for a gallon) or one sliced strawberry (for a cup)
½ cup sliced golden kiwi (for a gallon) or a couple slices (for a cup)
½ cup of mint (for a gallon) or a couple coarsely chopped leaves (for a cup)
½ tsp lemon zest (for a gallon) or a couple curls of lemon zest (for a cup)
Directions for Delectable Fae Fruit Tea
Prepare cold iced tea as normal or purchase from store readymade. Add strawberries, kiwi, and mint.
To intesify flavors, let sit overnight.
Serve with ice.