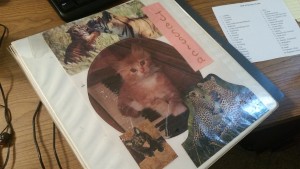 #writewemay If you're a writer, you should consider doing this. I'd love to see what you are all up to, so feel free to share in the comments and even include links to your work if you like. The first question is "your first work."
Well, on the subject of first works, it all depends. Below is the notebook where I wrote my first stories. My mother made the notebook for me and filled it again and again with reams of lined paper. As you can see, I had a deep affection for cats.

When I finished my first draft of the Portal (now Identity Revealed in the Tue-Rah series), I put it in this notebook. So I printed off that front sheet of the story and included it with the rough draft. I may share that first page in full text later.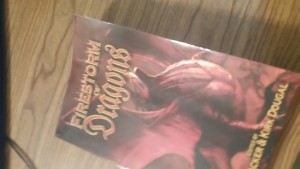 My first published in a physical book story was "For Your Eyes Only," an exceptionally sentimental story involving a wealthy young man, a poor young woman, the unfortunate societal influences trying to keep them apart, and a vindictive dragon who wasn't as bad as he seemed. Oh and some curse that turns people blind when they get near dragon gold. I wrote the story when I was 13 or 14, I believe. But the story was published when I was a little older.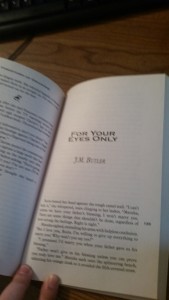 I have debated whether to include this one, but perhaps it does count. My theoretically first published book was actually Darys: A Vampire's Trial. A limited number were printed as part of my honors thesis project (yes, I actually managed to get my advisors to let me write a historical fiction) and it is part of the university's collection. I think my sister may have my copy of it (I'm having her work up illustrations for a republication). So I have no picture of that one, but it is a hard cover in a rather odd shade of beige with white lettering.

There were a number of other publications in online magazines as well as ezines and a couple newspapers. But I didn't print any of them out, and the newspapers are stashed in a box in the attic. I think…I can sometimes get a little careless with my proofs unfortunately.
So anyway, those are my first publications. What about yours? And if you haven't yet reached that, what would be your dream publication and for which story? And what would the cover look like?
All the best to you, my friends! Let's write wondrous stories in May! (Please excuse the funky formatting. I can't figure out what's wrong with it.)