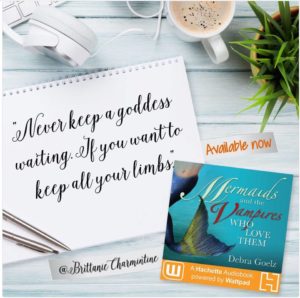 Today is an incredibly exciting day because this is the day that my incredible friend, Debra Goelz (aka Brittanie Charmintine) releases her story, Mermaids and the Vampires Who Love Them on audiobook with Hachette.
Now this is a deeply personal story for me because I've gotten to see it develop. There's something special that happens when you get to see an incredible story developing beneath your eyes and you get to talk to the author and see the amazing (albeit headbangingly frustrating for the author) process.
I'll be doing a more formal review about this, but let me tell you my thirteen favorite things here.
Mer people! (who actually have to do math)
Magic-altering tears
Rainbow eyes
Vampire trope inversion
Sea horses!
Supernatural teachers with amazing courses (I wish these were offered here!)
Cupid
Kisses (sometimes in flight, even, hmmhmm)
Sneaky sneaky escapes
Witty tongue-in-cheek sense of humor
Cupcakes
Corndogs (I might not enjoy them but Waverly makes them sound so appealing)
Shark battering rams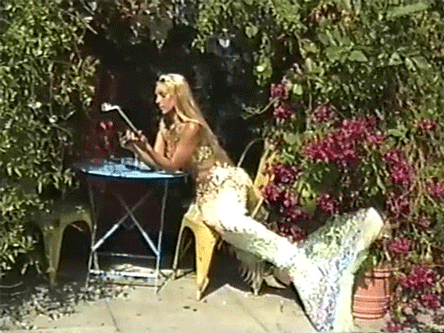 So far as I am concerned, this is a must-read. I mean must-listen. It's perfect for the summer or for those who wish summer was still here. Or those who just love mermaids. Pick it up here.
Do sign up for her newsletter as well here.
And guess what? She's hosting a fantastic contest with some great prizes. Opportunities for writers and artists. Check it out here. There are prizes up to $100.
Beautiful job, Debbie. I can't wait to hear it again and read more of your stories in the future.